Why hello, little blog. It certainly has been a while, hasn't it? Between blowout diapers, picking chunks of spit up out of my hair, and chasing around a toddler, I've had little time for anything but showering and trying to fit in time to run a brush through my hair. Life is hectic and crazy, but I
love
it!
I've been practicing with my speedlite and 28-75mm lens recently, and am pleased with the way things have been turning out. What a difference an external flash makes in the dead of winter in dreary, gray Pennsylvania!
In other photography-related news, I've found another forum (ilovephotography.com) that has been keeping me occupied while nursing Sarah and watching countless episodes of The Mickey Mouse Clubhouse with Hannah. I've learned so much from the Internet that I doubt how much I really
needed
the photography books I have. Between the two, I feel that I retain more information from the message boards I frequent. This may be due in part that the minute I put a book in my hand, Hannah begins calling out "MAMA!" in her sing-song, high-pitched, 150 decibel voice. She is so stinkin' cute! How could one
not
respond by putting down the book and addressing her needs that very second?!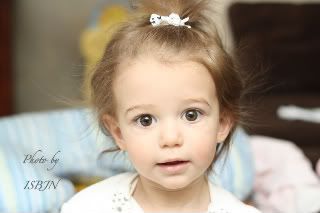 ISBJN is my name on a photography board...don't mind it. I didn't feel like adding a different watermark to post on the blog.
Hannah is napping, as is Sarah. The house is quiet and I'm peacefully sitting in my spot on our couch checking out the sunshine glimmering off of the crisp, white snow in our backyard. Our furnace broke this morning, and upon realization of this problem, we hurriedly turned on our fireplace. Although it was cool in our home for a few hours (64 degrees to be exact!), the soft glow of the fireplace made for a very homey feel. It's moments like these that make me not mind the winter months so much. Tomorrow they are calling for ice...that's another story altogether. It may mean a few more hours at home for Daddy, and for that we can all be grateful!
Our furnace is fixed (only $137 later, thank God!) and we are now cozy and warm once again in our house.
This is possibly the most random post to date. Just sayin'.
That's all for now, as I believe I may have just heard Hannah whispering upstairs. I'm kind of hoping for another half hour of nap time for her. We shall see!
Stay bundled and warm, close by the fire and family, and enjoy these wintry days.